Universal Thought Consult Pvt. Ltd, previously named as universal Teach Consult has been operating within the academic industry for about 7 Years. Universal Thought Consult (UTC) has been known as an entrance preparation center that has an added service of abroad counseling and a training center. UTC is especially favored in the market for its facility towards preparation for entrance but rather than only having a profit motive, UTC eminently works as a career partner to the associated students. Universal Thought Consult is an institution that invests in a student with immense knowledge to cater their radical mind and energy towards a positive platform. UTC organizes its every module of services in such a way that the student results to be a skilled, potential and capable individual rather than being only an academic superior. UTC evaluates its success on the growth of each individual. UTC, within its establishment, has always believed in counseling the students to the right career path that is supported by every interfering factor of an individual relating to divergent social class. UTC has an optimistic belief of operating its business with relevancy to career of a student. UTC has been serving the students with productive seminars, result-oriented events which is designed in a facilitating way with an objective to create future pioneers in the field of knowledge and business. With its abroad counseling services, UTC has offered students in guidance for their careers in Australia, UK, Canada and South Korea. UTC, with its branch in Sydney envisions serving the students that are willing to study in Australia with a facilitating service that serves their interest and comforts as a companion.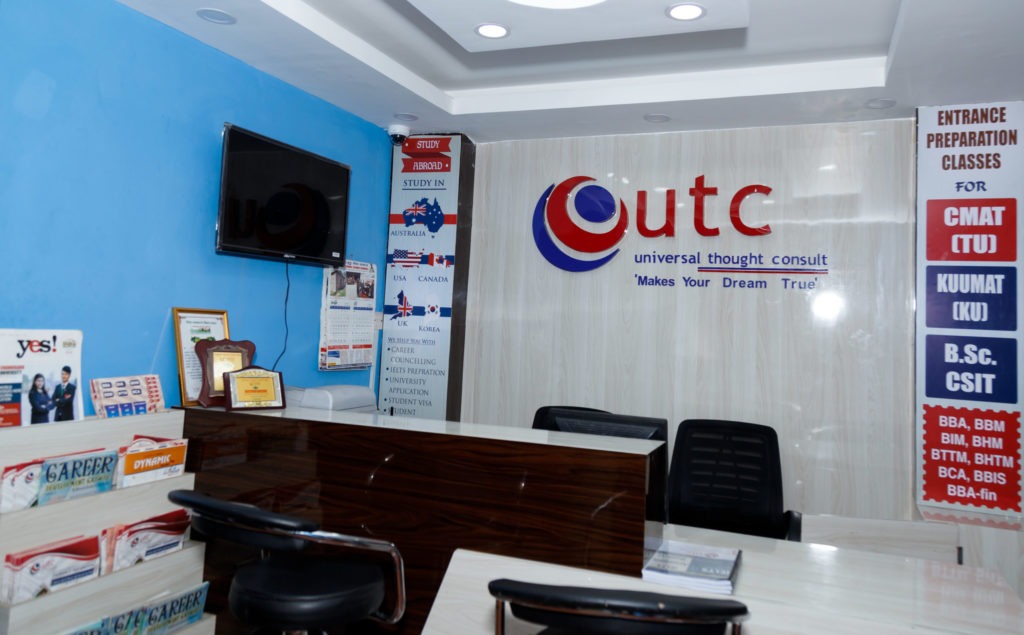 OBJECTIVES
●To produce mature and competent manpower with the capability to meet the demand of job market.
●To facilitate students for job opportunities
●To guide the students energy on positive platform leading to increased self-efficiency and development of skills
●To create a creative learning platform for students
●To enhance soft skills and possible hard skills of students to foster their capability ●To create an environment that simulates the obstacles and stress of real life to prepare them for progress and success in practical world.
SERVICES
ENTRANCE PREPARATION : CMAT, KUUMAT, B.Sc. CSIT, GMAT, KUMAT & PAAT
TEST PREPARATION : IELTS, PTE & SAT
ABROAD STUDY : AUSTRALIA, UK, CANADA & SOUTH KOREA
BRIDGE COURSE : FOR SEE PASS STUDENT'S
CAREER COUNSELLING
PROFESSIONAL TRAINING PACKAGE
ACCOUNTING TRAINING PACKAGE
JOB PLACEMENT SERVICES